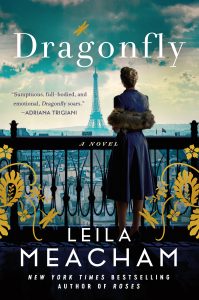 Title: Dragonfly by Leila Meacham
Format: Book, Book on CD, Large Print
Who's It For: Adults
During the Nazi occupation of Paris, five Americans went undercover to ferret out German top secrets. In short, they were spies. Samuel Barton was a civil engineer who would gather intel on German blueprints. Christoph Brandt was a track-and-field coach.  He would teach sports in a private school to children of top German officials.  Brad Hudson would use his fly-fishing skills to befriend Nazis. Victoria Grayson's fencing skills would open avenues with German elite.  And Bridgette Loring, fashion designer, would secrete knowledge through fashionable wives and girlfriends.  
Together, their team was known as "Dragonfly."  Although they were all trained stateside by the Office of Secret Services, their true identities were  concealed from each other.  They each had a code name and an assumed name while in France: Samuel/Lodestar/Stephane, Christoph/Lapwing/Claus, Brad/Limpet/Barnard, Victoria/Limpet/Veronique, and Bridgette/Labrador/Bernadette.  Bridgette resided at a convent.  On the wall of the convent, she painted a mural through which she could relay secret messages to the others through changes to the art.  And team members weekly submitted intel to Bridgette through a mail drop.  Bridgette in turn transmitted messages back to their OSS case officer, Alistair Renault, via a hidden radio at the convent.
What could go wrong?  What could happen if team members bumped into each other in their assumed life?  If an American turned Nazi ran into his best friend in Paris, would he turn in his countryman?  What if a Nazi fell in love with one of the women?  Would any of the five survive this dangerous mission?
My son first read this story and recommended it to me.  And I loved it!  The narration switches from one team member to another and then to Alistair, their case officer, who is very concerned for these young people.  The timeline alternates from the past to 20 years later.  All of these elements contribute to the tension and drama of the story.  It was a page-turner!
If you enjoy being immersed in another place and time in history, I recommend this book to you.