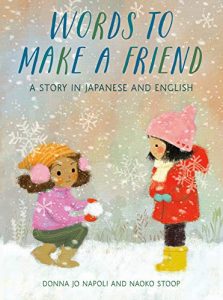 Words to Make a Friend
By Donna Jo Napoli and Illustrated by Naoko Stoop
Format: Picture Book
Who's it for: Kids
Words to Make a Friend is a story in Japanese and English.
On a snowy day one little girl who just moved in watches another girl playing in the snow. She finds her snow gear and gets dressed up warm to go outside too.
"Hello," says her new friend. "Konnichiwa," she says and they both smile. "Lets play!" "Asobou!" From that point on, the girls take turns saying words and practicing each other's words. They encounter a woodpecker, Peck peck. Kotso kotso. A roly-poly or botteri. Otherwise known as a snowman, and lots more. They spend the afternoon making snow creations and naming them, each in their own language. It's fun! Soon they go in for some treats and crafting.
These two don't find the language barrier a problem. They are new friends!
Find Words to Make a Friend in the catalog!