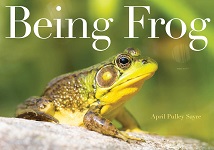 Being Frog by April Pulley Sayre
Publication/Release Date:
Format: Book
Who it's for: Kids
Frogs are fascinating, and Being Frog by April Pulley Sayre is a beautiful look at these amphibians for young naturalists. Stunning photos and simple rhyming text show a tiny frog egg growing into a tadpole, then a tiny froglet able to leave the water. Readers then follow one day in the life of a green frog in a North American woodland pond: we see the frog swimming, climbing, hunting, missing its prey, and trying again. The author Sayre uses simple language to show that frogs are living creatures with their own needs, habitats, and behaviors- not playthings, but wild animals. An author's note gives more information about how she observed and photographed the frogs over many months to create this lovely book, which is perfect for the youngest nature-lovers.