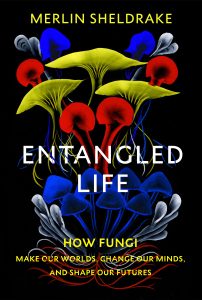 Entangled Life by Merlin Sheldrake
Format: Book
Who it's for: Adults
It turns out that fungi are fun!  This book takes the reader on an unexpected journey and turns conventional thinking somewhat on its head. Although fungi have their own kingdom and are often lumped in with plants, they are actually more closely related to animals. They even take the prize for the largest and perhaps the oldest organism on the planet. There is a patch of honey fungi that covers 10 square kilometers in Oregon.  It is believed to be somewhere between two thousand and eight thousand years old. Some species of fungi launch their spores so explosively that they accelerate ten thousand times faster than a space shuttle directly after launch. Other species are responsible for "zombie" carpenter ants and provide nature with its very own internet, the wood wide web.
This book was a delight. Each page was full of new and interesting details that led me to search for more information, pictures, or videos of the events described. While the book itself is short, it may take you a bit longer to finish because you've fallen down a mycological rabbit hole.