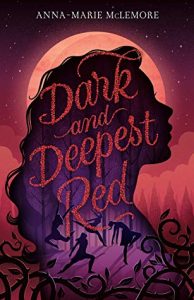 Dark and Deepest Red by Anna-Marie McLemore
Publication Date: January 14, 2020
Book
Who It's For: Teens, Adults
This is a beautiful and haunting story told in a dual timeline, linking people across five centuries. The story will hearken the tale of The Red Shoes, by Hans Christian Andersen, but it is so much more.
In 1518 France, Lavinia is swept into the chaos of a dancing plague, but her role is not that of victim, but as suspect. Her strange family and strange ways must mean only one thing: she is a witch. Five centuries later, Emil is linked to the past by blood, and Rosella by a beautiful pair of red shoes. Separated by 500 years, what must Lavinia and Emil do to save the people they love?
In this dark fairy tale, the author blends history, family, love, betrayal, women's and girls' roles in society, and the treatment of marginalized peoples in the past and present into a magical story.