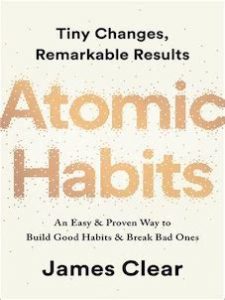 Atomic Habits: Tiny Changes, Remarkable Results: An Easy & Proven Way to Build Good Habits & Break Bad Ones  by James Clear
Format:  Book, ebook, Digital Audiobook, Book on CD
Who it's for:  Adults
In Atomic Habits, James Clear teaches his readers how to form good habits, break bad ones, and master a system of reaching your goals by changing the way you think about your progress.  If you focus each day on working just 1% toward reaching your goal, and you repeat that process each day, you are cumulatively closer to reaching your goal as opposed to being farther from it.
Clear encourages his readers to follow his four laws of creating a good habit.  They are: Make it Obvious, Make it Attractive, Make it Easy and Make it Satisfying.  Once good habits are formed, these come together to create a system for a person, that will allow him or her to obtain their goals successfully.
I listened to this book in digital audiobook form.  The book is narrated by the author and includes true stories of the accomplishments of athletes, artists, entertainers and businesspeople which emphasize the successes of Clear's way of re-thinking habit changing behavior.  I thought that Clear's "system" approach whereby a person aims to create good habits in order to stay motivated and on track, was a new way of thinking about attaining our goals. This is a very interesting book.