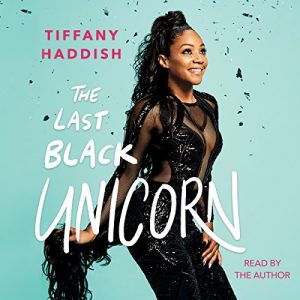 The Last Black Unicorn by Tiffany Haddish
Format: Digital Audiobook
Who it's for: Adults
This book is hilarious. The audiobook is exuberantly read by the author and her grit and honesty shine through from the very first line. Haddish unfurls an intense string of experiences that make readers feel a personal connection with her. She shares stories of her grade school bullies, her time in foster care, a mother with mental illness, experiences with sexual abuse, and domestic violence. Her hardships have been intense but through humor and bravery she refuses to fail.
Haddish opens her life to her us with no filter. The language is excessively profane but the blunt retelling of her experiences makes the reader feel spellbound by her strength and self confidence. This book leaves readers with the feeling that they can succeed through anything. If you're looking for a gritty, uplifting read, this is a winner. Find it in the catalog.