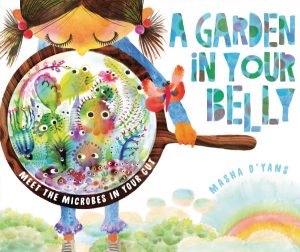 A Garden in Your Belly: Meet the Microbes in Your Gut  Written and illustrated by Masha D'yans
Format: Book
Who It's For: Kids
Did you know that you have a river in your body? Its called your intestines and around the river there is a "garden" too. This garden is called your gut microbiome and it's chockful of teeny tiny creatures who LOVE to eat, fight off germs, take out the trash inside us and more. You cant see it (except with a microscope) but their presence in our bodies make us who we are! But how did they get there? Are they good creatures or bad? (spoiler alert: you've got some of each!) What do they look like?  What are they DOING in there??  A Garden in Your Belly will help kids gain a new understanding of the "why" of eating healthy food, playing outside and drinking water and how those things strengthen our "garden". They will learn how we can take charge of our own health by feeding the good gut microbes, which help make us healthy in our bodies AND even our minds. The gorgeous, funny watercolor illustrations of the tiny creatures in our gut really steal the show!
Science nerd that I am, I loved this book and take it from me, A Garden In Your Belly will definitely blow your young scientist's mind!