The Next Person You Meet in Heaven by Mitch Albom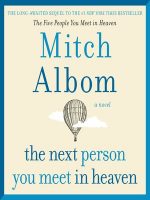 Format: Book
Who's it for: Adults and Young Adults
On the morning after Annie is married, she and her husband Paolo are involved in a shocking balloon ride accident leaving them in critical condition. Paolo needs a lung transplant and Annie donates one of hers.
At eight years old, Annie was the survivor of a terrible accident. A falling amusement car severed her arm.  Eddie, a maintenance man pushed her to safety but was killed by the falling car. Annie's arm is reattached in a miraculous surgery.
Annie endures a lot of bullying until she meets a boy named Paolo. They become friends until he moves away with his family.  Annie, estranged from her Mom after high school, wonders about the mistakes she's made and why she survived the accident.
Years later Annie meets Paolo again. Soon they get married.
Annie awakens after the lung surgery but where is she?
The Next Person You Meet in Heaven follows Annie as she meets five people in heaven. One of them is Eddie the maintenance man who saved her. "'Mistakes,'" Eddie declares. "'That's what I'm here to teach you about."
Annie learns from her five people in heaven that, lives are intertwined in many ways.