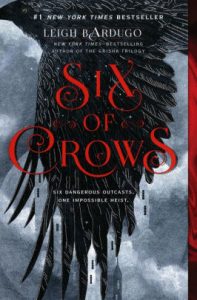 Six of Crows by Leigh Bardugo
Format: Book, eBook, Audiobook
Who it's for: Teens, Adults
In Ketterdam, a center of international trade, Kaz Brekker and his crew fight to survive in the underworld of the city. At its core, Six of Crows is a heist story. A wealthy merchant offers an obscene amount of money if Kaz and the others can travel to a nearby nation, break into the Ice Court, and free a scientist being held prisoner. Complicating matters is disagreement among the crew about what should be done with the prisoner when (if) they get him out.
The crew is Jesper, Matthias, Wylan, Nina, Inej, and Kaz: "a gambler, a convict, a wayward son, a lost Grisha, a Suli girl who had become a killer, a boy from the Barrel who had become something worse." The story is told in alternating viewpoints and you really get to know these characters and their backgrounds. Six of Crows takes place in the Grishaverse, the same fantasy world featured in Bardugo's Shadow and Bone trilogy, and some of the characters will be familiar to those who've read her other works.
Six of Crows is the first book in a duology. It ends in a cliffhanger – be ready to immediately dig in to Crooked Kingdom! Netflix is creating a series based on Bardugo's Grishaverse, so these characters will soon be making their way to our television screens as well.