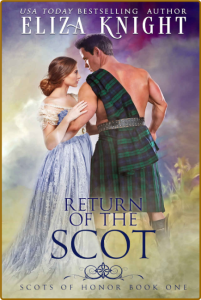 Return of the Scot by Eliza Knight
Format: Book
Who's it for: New for Adults
Duke of Sutherland and war hero Lorne Gordon is ready to return home after ten years of being missing in action as a prisoner of war, but how is a Duke to return home when his title and estate have been sold out from under him? Business maven Jaime Anderson has little sympathy for the Duke presumed dead and is resolute to withhold her newly purchased property from the currently penniless Laird, but can she withhold her heart from the determined Duke despite their bitter past? An unlikely partnership and more than a few sparks might unite these stubborn Scots!
Eliza Knight's first book of the Scots of Honor series is one more Highland romance to add to a historical romance lover's "to be read" shelf. Family secrets, mysterious disappearances, and less than tactful proposals aren't the only plot points to enjoy. Jaime and Lorne's strong personalities and dialects make this prickly and utterly Scottish pair well-matched for their entertaining banter and slowly built tension. Cheeky cousins, blunt butlers, and detestable siblings are also in store for this novel that can be read alone or with the accompanying novels in the series.  Fans of Highland romances from authors like Lyndsay Sands and Lori Ann Bailey may enjoy this quick, lightly sensual read and it's following novels in the trilogy. Find Return of the Scot by Eliza Knight and other authors in our catalog.