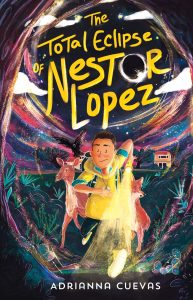 The Total Eclipse of Nestor Lopez, by Adrianna Cuevas
Format: Book
Who is it For: Kids
The Total Eclipse of Nestor Lopez is an honor for the 2021 Pura Belpré Award in the Children's Author category. First established in 1996, the Belpré Award is presented to a Latino/Latina writer and illustrator whose work best portrays, affirms, and celebrates the Latino cultural experience in an outstanding work of literature for children and youth.
Nestor, a young boy who has moved to a new town, must not only navigate going to a new school and having a father deployed overseas, but he also struggles to keep his gift of talking to animals a secret. But as animals start disappearing in the woods around his house, Nestor finds himself trying to uncover the truth behind a mysterious creature and put a stop to it before it's too late.
Adrianna Cuevas draws on Panamanian and Costa Rican myths to present to a thrilling adventure for young readers.