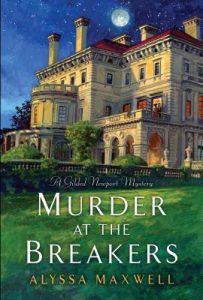 Murder at the Breakers by Alyssa Maxwell
Who's it For: Adults
Format: Book

One might assume that all was well among the elite of Newport, Rhode Island in 1895. Emma Cross discovered differently. When stepping out into the damp gardens, Emma padded to the front of the Vanderbilt mansion.  Where was her half-brother, Brady? Hearing a voice and a scuffle on the balcony, Emma looked up.  A man tumbled over the stone balustrade and plummeted to his death.  Was it Brady?  Or Uncle Cornelius?  Emma ran to the prone body.  She peered into the unseeing eyes of…Mr. Goddard?? Alvin Goddard was the financial secretary to Emma's Uncle Cornelius.  Earlier that evening, he had pawed her hand and gushed over her Vanderbilt connection.  As a poor relation, she was at the ball as a fashion reporter for the Newport Observer.  She needed or, at least, preferred to earn her living rather than rely on the largesse of her relatives.  At any rate, with a dead body at her feet, she needed help.  Dazed, Emma wandered back indoors to the ball.  "Emma!" Her father's friend Jack Parsons and her cousin Neily Vanderbilt, seeing her bedraggled state, rushed to her side.  "What happened?"  After a hasty explanation, the trio left to cover Mr. Goddard with a sheet.  While Neily and Jack discussed contacting the police, Emma returned to the mansion and quietly ascended the stairs.  "Brady?" Where was her scamp of a brother?
Upstairs, Emma made her way into her uncle's bedroom where the doors still stood open to the balcony.  Her cousin Neily soon followed.  Emma spotted a pair of feet on the floor beyond Uncle Cornelius' bed.  "Brady!" There was her wayward sibling, passed out, a large bump on his head, and, from the smell of things, drunk.  "What in thunder is going on in here!?" demanded Emma's uncle as he stormed into the room with a police officer.  Scattered near her brother were railroad plans that had been stolen.  Emma could imagine her brother as a thief, but also as a murderer? No.  Now Emma just had to prove it.
I enjoyed this tale of mystery and romance.  Author Alyssa Maxwell wove a light yet intriguing story around Newport historical figures of the Golden Age.  This is the first book in a series.  Find Murder at the Breakers in our catalog.