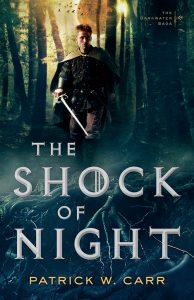 Recommended Series
Series Title: Darkwater Saga by Patrick W. Carr
First Book: The Shock of Night
Who it's for: Teens & Adults
Brief Synopsis: A clean (no sex, gore, or swearing) medieval fantasy mystery with twists & turns, warring religions, gifted peoples, secret societies, battles between forces of good & evil, and complex characters that make one feel all the emotions set in one epic story told in 4 parts.
Review: The Darkwater Saga takes place in the fictional kingdom of Collum. Our hero is Willet Dura, a reeve, aka the King's investigator. He fell in love with a Lady of the realm; so as a favor the King has made Willet a Lord; now they may marry. Willet is not a well-respected Lord or noble since he was not born to it and works a regular job. Willet is also looked down on and basically thought to be a little crazy because he survived a night in the Darkwater Woods. Everybody knows folks die or come out insane after a night in the Darkwater. 😬😨😱 Willet is even more suspect because he cannot remember his time in the Darkwater. Despite these difficulties, Lord Willet Dura is content as a typical working man.
Now the fantasy aspect comes in to play because in Collum there are people who are gifted. After Willet's time in the Darkwater, he sometimes wakes up with blood on his clothes and no memory of how it got there. All Willet knows is that there is sure to have been a murder. A great thing for an investigator but is it a gift or a curse?
If one starts with book 1, The Shock of Night, many aspects of this world are not fully explained until almost the end of the book. I believe the author, Patrick W. Carr, wrote the free prequel, By Divine Right because some readers wanted more world building before they jumped right into the adventure. I learned about the prequel after reading book 1. The prequel is available on most major ebook platforms for free!😁👏🏾👏🏾👏🏾
In Collum, there are folks that are gifted. They are the upper class in society. Gifts of uncanny physical strength, music, mental ability, and other talents can be passed down in families. A relative typically inherits gifts but sometimes they go to an apprentice. The gifted can give it to them before they die. Most gifted train their successors so they know how to use their gift properly. Sometimes gifts can "go rogue" when the gifted person is unable to pass it on their appointed successor. That is what happens to our hero, Lord Willet Dura in The Shock of Night.  Willet wakes up with mystery blood on his clothes and knows he will be investigating a murder. For the first time, Willet finds the victim still alive. The stranger lives just long enough to pass his gift to Willet.  A gift that comes with additional responsibilities which Willet soon discovers he would rather not have. The dying man belonged to a group called the Vigil. The Vigil is a group of gifted individuals who seek to vanquish the evil in their world. They are like magical Navy Seals or very limited in power X-men.  Willet does not like this whatsoever but he has a mystery to solve. 🕵️‍♂️
Thus begins the epic adventure of Lord Willet Dura saving the kingdom of Collum from evil. There are many heartaches. At times, it seems like all hope is lost but good does triumph…eventually. Many battles against evil forces will ensue. Some characters will die or be seriously injured. All of them will have injuries to their soul. Miracles will happen. Revelations will be brought to light. Many (unlikely) lifelong friendships will be formed as Willet is joined/joins others to fight the evil that is trying to engulf the kingdom of Collum. They do win in the end. But every win was hard won with blood, sweat, and tears aplenty.😫😭
If you read Sharon Kay Penman's 4 book series of medieval mysteries featuring Justin de Quincey as the investigator, you will like Lord Willet Dura and his investigative style. If you enjoyed the Lord of the Rings movies, you will enjoy the medieval adventure, magical happenings, and teamwork found in this series.  I read this series because I liked his Sword and the Staff series. While looking for something similar to Stephen R. Lawhead, I discovered Patrick W.Carr under the tag of Christian fantasy. A Christian publisher, Baker, publishes Carr's books but neither of his series are what I think of as Christian fiction. Carr's books are clean and have few things in them that might offend a Christian but are definitely not what I would classify as a Christian fantasy novel like say C.S. Lewis. I recommend the series to teens and adults that can handle violence, character deaths, and hard emotions. None of the books are standalones.  All the novels pickup right where one book ends. Luckily, the series is finished and no need to wait a year or more for the rest of the story.🎉😀