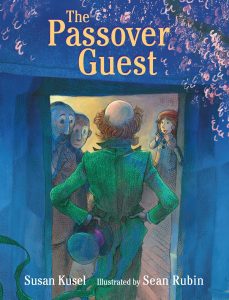 The Passover Guest by Susan Kusel
Format: Book
Who it's for: Kids
The Passover Guest, written by Susan Kusel, and illustrated by Sean Rubin, is inspired by the classic story The Magician, and the art of famous painter Marc Chagall. It takes place in depression-era Washington D.C. It's spring, the cherry blossoms are blooming, and it's the first night of Passover, the Jewish holiday celebrating the exodus from Egypt. A young girl named Muriel is concerned. Her father, like so many others, has lost his job. They don't have enough money to buy food for the seder, the traditional Passover meal, not even a cup of wine for Elijah, the prophet who is symbolically invited to every Passover seder. As she dejectedly makes her way home, she meets a peculiar stranger at the Lincoln Memorial. He performs a magic trick, and Muriel gives him the only penny left in her pocket.
When Muriel arrives home, she finds her family dressed in their finest clothes, with nothing on the table. There is a knock at the door. It is the man Muriel gave her last penny to! He asks if he can join in their seder. As they begin to explain they have nothing to share, a feast suddenly appears on their table! Muriel's family is astounded, and apprehensive about eating food that wasn't there moments ago. Muriel runs to ask the Rabbi what they should do. The Rabbi accompanies Muriel to her family's home, along with most of their friends and neighbors. When they arrive, the stranger is gone, but the feast remains. The Rabbi declares it a miracle, and the whole community enjoys Muriel's family's seder together. In all the excitement Muriel remembers the mysterious stranger… and notices not a drop remains in Elijah's cup of wine!
This magical holiday story was the recipient a Sydney Taylor Award this year; a well-deserved win for an exceptional book!