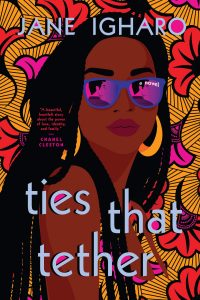 Ties That Tether by Jane Igharo
Format: Book
Who it's for: Adults
Nigerian-born, Canadian-raised Azere has always felt a conflict between what her family expects of her and what her own heart desires. At twelve years old, she made a promise to her dying father that she would marry another Edo man and to never forget her culture. She had always had every intention of keeping that promise, especially with her mother strongly encouraging Azere's efforts by constantly matchmaking for her. However, one night Azere finds herself particularly frustrated with yet another of her mother's failed setups and indulges in the company of Raphael Castellano: tall, handsome, and…white. Azere insists on leaving their relationship as a one-night-stand but their relationship suddenly and unexpectedly becomes extremely serious when she discovers she is pregnant with his child. Despite her mother's strong disapproval, Azere is undeniably drawn to the charming Raphael and finds herself wrestling with a core question: can she successfully keep him in her life without compromising her Nigerian culture? Ties That Tether is a heartfelt examination of one woman's struggle between what she thinks she is supposed to do and what her heart is telling her to do.