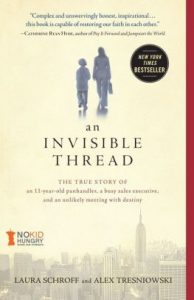 An Invisible Thread, The True Story of an 11-year-old Panhandler, a Busy Sales Executive, and an Unlikely Meeting with Destiny
By: Laura Schroff and Alex Tresniowski
Format: Book, Hoopla
Who it's for: Adults
An Invisible Thread is a true story written by Laura Schroff, in which she recounts the unexpected friendship that she made with an eleven year old boy on the busy streets of New York.  As a person who usually reads historical fiction, I chose to read this book because a patron told me how great it was as she placed it in the book return.  She said it with such feeling, I had to grab the book and read it myself.
In 1986, Laura Schroff was a busy advertising executive living in Manhattan.  Maurice Mazyck was an undernourished, homeless boy living two blocks away.  This book is a personal memoir of Laura's life with the story of Maurice's life intertwined.  It is also the story of a relationship that has spanned over thirty years because a woman was not afraid to reach out to a young stranger.
I like this book because Laura Schroff doesn't sugarcoat anything.  There are parts of the book where you want to cry for Laura, for Maurice, and for the bad things that life throws their way.  But Laura's story also reveals that life can be good when you show compassion towards others and never stop believing in them.