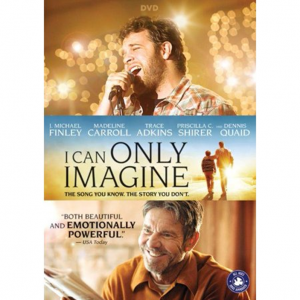 I Can Only Imagine  Directed by Jon Erwin and Andrew Erwin
Format:  DVD
Who it's for:  Adults, Teens
This is the true story behind Bart Miller's creation of the song I Can Only Imagine.  As a young boy, Bart Miller (played by J. Michael Finley) grew up in a home with an angry father (played by Dennis Quade) who mistreated his mother and made Bart feel like he would never amount to anything.  With the support of his friends, his own courage, and his strong faith, Bart persevered.  After finishing high school, Bart left his home and his miserable father and ended up joining the Christian band MercyMe.
Although the band is successful, they can't seem to get the break that takes them to the big time.  Feeling frustrated, Bart returns home.  To his disbelief, Bart's father has become a Christian.  He is also dying.  Bart takes care of his father and finds that he is able to forgive him before he dies.  Months later and back with the band, Bart reflects upon what has happened in his life, and the grace that God has shown him.  Bart Miller imagines what it would be like to be in Heaven standing before God.  I Can Only Imagine is the resulting song.
The performances of J. Michael Finley, Dennis Quade, Trace Adkins and Priscilla C. Shirer are superb.  If you don't have time to watch the DVD, at least listen to the sound track.  J. Michael Finley, who the film's producers found on Broadway, gives an amazing singing performance.
This is an excellent movie.  I have to say it is one of my favorites!  I give it five stars!!