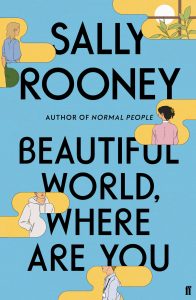 Title: Beautiful World, Where Are You by Sally Rooney
Format: Novel
Audience: Late Teens and Adults
Sally Rooney's third novel is as much a Sally Rooney novel as she intends it to be – one where the author does not shy away from being who she is, nor does she pretend to be someone she is not. Beautiful World, Where Are You is a dialectical relationship to her prior works, and in following two critically acclaimed publications, Rooney has solved the burden of success insofar as by writing about the burden of success.
Readers who enjoyed Conversations with Friends and Normal People will certainly find fulfillment in Rooney's newest work. Part epistolary, part an exploration of ideas, and part a telling of young love, this novel is a jostle of fascinating concepts that attempt to tackle both issues on a grander scale, and ones that hit too close to home. Set around four individuals who, while still young, feel life catching up to them, and whose relationships with one another are tangled together, all approach life in different ways, and it is their understanding of what they know they want compared to what they are unsure or, more possibly, unaware of, that spurs on the decisions they make, and the ramifications that follow.
From the dialogue that does not falter, to the prose that flows seamlessly from page to page, to the discussions of the environment we live in and the future we are to construct, Rooney has created a wonderful work that truly does ask the reader the question, where is this beautiful world?
Find Beautiful World, Where Are You in print via the catalog.
Find Beautiful World, Where Are You online via an eAudiobook and an eBook.