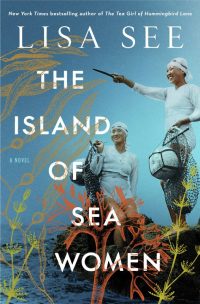 The Island of Sea Women by Lisa See
Format: Book
Who it's for: Adults
This book is a One Maryland One Book selection for 2020.
This historical fiction novel is set on the island of Jeju in Korea. Over many decades, beginning with the Japanese occupation during the 1930 – 1940's and during World War II and the Korean War.
During this turbulent time in history, two young girls Young-sook and Mi-ja, both from different backgrounds bond. Their close friendship begins over their love of the sea and working in their villages' all-female diving collective. The haenyeo woman are trained from a young age to expand their lungs and go diving on the ocean floor to harvest food. Their livelihood and traditions are intertwined. Their diving skills are handed down for generations.
Mi-ja, a city born orphan living nearby with a neglectful aunt and uncle is caught stealing food in the fields of Jeju by Young-sook and her mother. Her mother as head of the collective, decides to take Mi-ja on and teaches her alongside Young-sook to dive. The girls become lifelong friends enduring many life altering events that impact their lives growing up.
The political unrest and unspeakable tragedies inflicted upon the villagers are part of the horrors of war. The impact on their island from famine, to extreme punishment, and demands of the opposing government regimes are inflicted upon the villagers who struggle to comply.
Young-sook and Mi-ja endure impossible choices that tear their friendship apart causing disappointment, anger and judgement that take generations to understand and forgive.