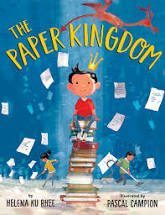 Paper Kingdom by Helena Ku Rhee, illustrated by Pascal Campion
Format: Book
Who Its For: Kids
When the babysitter cannot come, young Daniel must go to work with his parents, who clean a large office building at night. Exhausted, grumpy and unable to lie down to sleep in the big office building, he watches as mom and dad clean. "Why are all your cleaning things so dirty?" he asks .  "Because we use these things to keep the kingdom clean." they reply.  "The kingdom? What kingdom?" "The Paper Kingdom. This is the land of the Paper King, didn't you know!" And throughout the night as they clean, Daniel's parents tell him stories of the Paper Kingdom, complete with a King in his throne room, a Queen who is the busiest of all and sends paper everywhere and friendly dragons who work for the King (who don't mean to be naughty but are very messy indeed.) When Daniel complains about why his parents have to clean up such a big mess, they encourage him to become a good and understanding king himself one day so he can teach his own dragons how to clean up after themselves.
Based on experiences from the author's own life, Paper Kingdom is a delightful and heart warming story full of love and imagination that turns a difficult night into wonder. Pascal Campion's illustrations are magical as well.