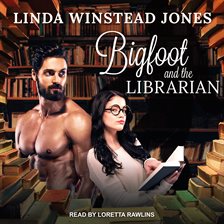 Bigfoot and the Librarian by Linda Winstead Jones
Format: Digital Audiobook
Who it's for: Adults
Marnie Somerset needs a fresh start; a new beginning, away from her dysfunctional family, and a worrying string of unsuitable ex-lovers. She accepts the position of Librarian for a charming little town she's never heard of before: Mystic Springs, Alabama. Upon arriving, she finds the long-time citizens, who call themselves "Springers," are a bit… stand-off-ish. Well, she supposes that's to be expected. After all, Mystic Springs is a very small town, with a very insular community. At least the local author, Clint Maxwell, is helpful, and not hard on the eyes!
Clint knows the truth: Mystic Springs isn't an ordinary town, and the people who've lived there for generations aren't ordinary people. There is magic in Mystic Springs; witches, werewolves, fairies, fortune-tellers, and more. Clint himself is a shape-shifter who turns into Bigfoot whenever the mood strikes him! And Springers don't take kindly to strangers. This Librarian is an outsider! It could be dangerous for her to stay, and much better for everyone if she left… too bad he can't stop thinking about her!
This cute paranormal romance about a small southern town is the first in the Mystic Springs series by Linda Winstead Jones, and is available to listen to via Hoopla.