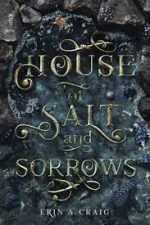 House of Salt and Sorrows by Erin A. Craig
Publication Date: August 6, 2019
Format: Book
Who it's for:  Teens, Adults
House of Salt and Sorrows is a retelling of the German fairy tale, The Twelve Dancing Princesses with a little bit of influence from Edgar Allan Poe's poem, Annabell Lee.  Annaleigh is one of twelve sisters in the Thaumas family living in a kingdom by the sea.  One by one her sisters tragically die.  Each death appears to be accidental but the kingdom starts to whisper that the family is cursed.  Suddenly, Annaleigh is one of seven remaining sisters and she is second in line to inherit the kingdom.
Annaleigh's stepmother is determined they are no longer going to mourn and they must celebrate that she is pregnant with a boy.  They decide to have a ball and new dancing shoes are ordered for the girls.  The ball is a failure as no one wants to dance with the "cursed" sisters.  Disappointed and lonely they find a doorway to other kingdoms where they can dance the night away with people that don't know who they are.  After attending a few of these magical balls, Annaleigh starts to have disturbing visions and begins to question if her sisters' deaths were accidental or were they murder.
Meanwhile, Annaleigh meets a mysterious stranger on the docks who seems to have a romantic interest in her.  And, her childhood friend, Fisher, returns to attend the ball.  Fisher and Annaleigh have always just been friends, but it seems that he might want more than just friendship.  However, Annaleigh needs to solve the mystery surrounding her sisters' deaths and figure out why she is having ghostly visions before she can decide on her romantic future.
This a great Gothic tale with lots of creepy atmosphere.  If you are familiar with Poe's poem and a fan of fairy tale retellings, you will like this one.  Another one of my favorite fairy tale retellings also happens to be based on The Twelve Dancing Princesses, Wildwood Dancing by Juliet Marillier.