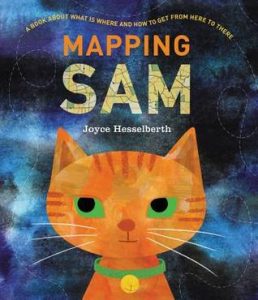 Mapping Sam by Joyce Hesselberth
Format: Book
Who it's For: Kids
Each night, after her family goes to bed, Sam the cat slips outside to roam and explore the neighborhood. Sam's journey is mapped out for readers and provides a perfect demonstration of how and why maps are used. Readers learn about map drawing and things like the compass rose and scale, while being told a fun story about a curious cat. The book also discusses other types of maps, like a map of the body or a map of the constellations.
This is the perfect blend of fiction and nonfiction and is a great beginner's book for learning about maps. The illustrations are beautiful and the story keeps readers engaged while they learn about the different things that can be mapped, finally asking the question "Can you map a dream?" While GPS has taken over the everyday use of maps, Mapping Sam demonstrates the ways maps are still useful and relevant today and teaches children how to read them.
Mapping Sam is a new addition to our Side by Side collection! Pick up a copy for fun activities and discussion questions connected to the book.