I don't know about you, but I definitely had an obsession with ponies at a young age. I guess you could say I was a little bit of a "Horse Girl" and my reading habits definitely showed it. I remember reading Misty of Chincoteague as a little girl and only dreaming of seeing the wild ponies on an island I couldn't quite pronounce. Who would've thought that I'd end up moving from Southern California to the eastern coast and find out that Chincoteague was a real place with real wild ponies?! My eight-year-old self would be positively galloping with joy!
As a former horse girl and a current local history nerd, re-reading Misty was a wonderful opportunity to get acquainted with the very real islands of Chincoteague and Assateague. If you're looking to enjoy this childhood favorite through a local history lens, take a look at Chincoteague and Assateague Islands and see the real historical photos and facts that inspired the novel. Want more fun facts? Learn about the history of Assateague's wild ponies in Assateague: Island of Wild Ponies. You might be able to impress your child with some fun local trivia or get inspired for your next outdoor adventure!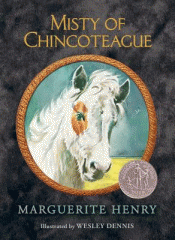 Misty of Chincoteague – Marguerite Henry, Ill. by Wesley Dennis
Brother and sister Paul and Maureen are captivated by the beautiful and elusive wild mare, Phantom. Hoping to capture her and win her in an auction after the annual pony swim from Assateague to Chincoteague, the duo is surprised to find that Phantom is mother to a beautiful silver colt, Misty. Will Paul and Maureen fulfill their dreams of owning this wild pony pair? Will the wild ponies cross from Assateague to Chincoteague safely? Find out in the Newberry Honor novel by Marguerite Henry!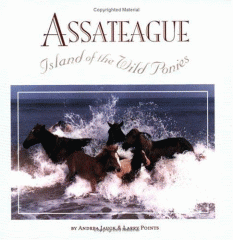 Assateague: Island of Wild Ponies- Andrea Jauck & Larry Points
A great non-fiction companion for Misty fans – this full color guide to Assateague's wild ponies and their daily lives will easily enchant the horse-curious. Be inspired to learn with easy to read print and fun facts about Assateague's habitat and environment as well as other wildlife that enriches the life cycles of Assateague's wild ponies!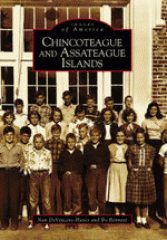 Chincoteague and Assateague Islands- Nan DeVincent-Hayes and Bo Bennett
Read about the history of the communities off the coast of Virginia and Maryland through stunning historical research. Learn about the symbiotic relationship between the rich tourism of Chincoteague and the wild primitivism of Assateague complete with community contributed stories, postcards, and photos. See the development of these two thriving islands and the people who lived there then and now.