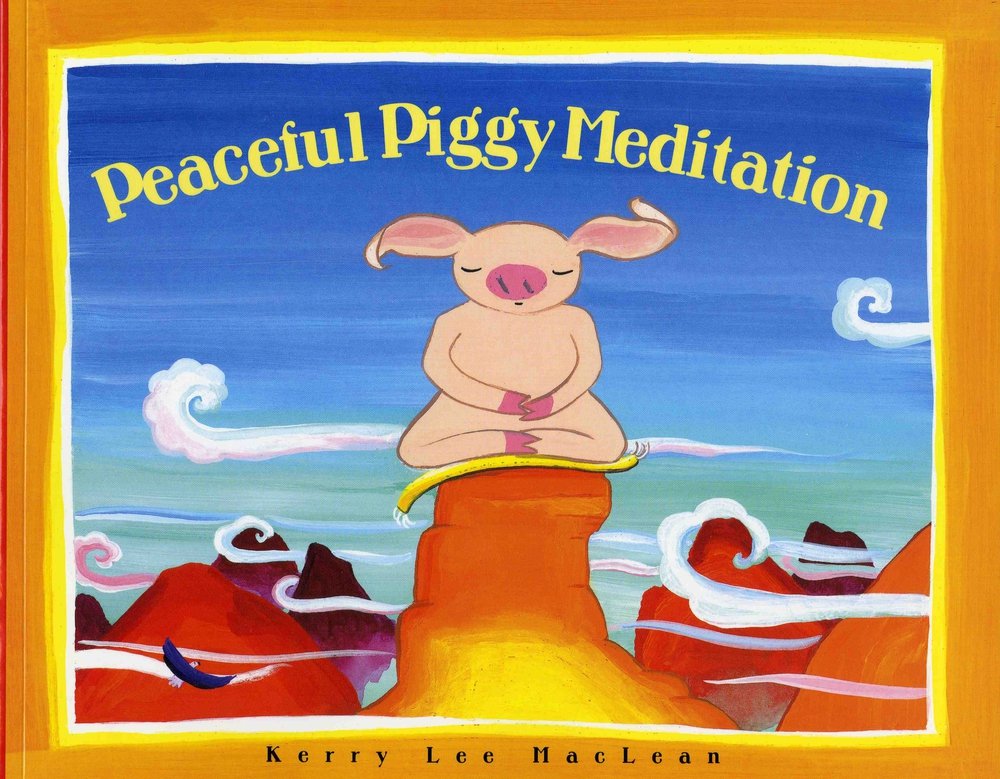 Peaceful Piggy Meditation by Kerry Lee MacLean
Format: Book
Who's it for: Children
"Sometimes the world can be such a busy, noisy place.  Sometimes it feels like you always have to hurry, hurry, hurry… and you feel like you can't slow down- even when you're sitting down!"- From Peaceful Piggy Meditation
Life can get hectic.  In addition to all of our work, house and family duties there is a very real, very persistent pressure from society to be constantly plugged in.  The urge to be constantly informed of any and all things is a powerful one, but if we're not careful it can leave us feeling lost and confused in a constantly shifting world.  At the end of the day, instead of getting some vital sleep, many of us use this time to catch up on the events of the day, watch a "must-see" TV show, or any number of things that we've been told we must do to be a part of society.
It can be easy to think this is strictly an adult problem, but the young people in our lives are affected by this pressure as well.  The world seems to spin faster and faster every day, and the more we try to keep up with it the more our heads will spin at the end of the day.  The best way to slow it down and be fully present, and this is true for kiddos and adults, is to get off the ride altogether.  To put some space between ourselves and these thoughts.  To find a spot of stillness within ourselves and nurture it until it grows.
Peaceful Piggy Meditation, by Kerry Lee MacLean, describes the basics of meditation to children through a short story involving some piggies that wish to become calmer, kinder beings.  At its core, the practice involves stopping to listen to what is happening inside of you, physically and mentally.  It is so simple that anyone can do it, and the benefits of stopping and slowing down are good for everyone's mental health, regardless of age.
I meditate with my 2-year-old daughter about once every other day, and it has been amazing to have those moments to slow down and actually be with her, instead of having my mind on something else.  At her age, it's less about being still and more about knowing that it's a quiet time to be together, but it is something that I would recommend to all families that may at times feel overwhelmed.  Find it in our catalog.