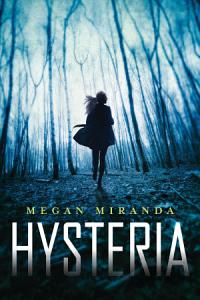 Title: Hysteria by Megan Miranda
Format: Book
Who's It For? Adults and Young Adults
Mallory remembered that her boyfriend Brian was dead. Yet she didn't remember that she had stabbed him. The police didn't charge her with the crime. Brian, from his history, was probably the aggressor. If only she could remember. Meanwhile, Mallory took a sleeping pill at night.

To give her a fresh start, Mallory's parents sent her to a private prep school: Monroe. At first, she was making friends, including Reid. Reid and Mallory's fathers attended Monroe years ago. Yet, when her roommate moved out, Mallory figured that word of her past had spread. Mallory frequently heard a loud thumping noise at night. And when she woke, her shoulder was bloody and blistered. Was someone tormenting her? Or was Mallory losing touch with reality? She had to find some answers before it was too late.
If you enjoy a suspenseful tale with flawed characters, I highly recommend this author.  While Hysteria is my favorite Megan Miranda book, I would also suggest The Perfect Stranger and All the Missing Girls.