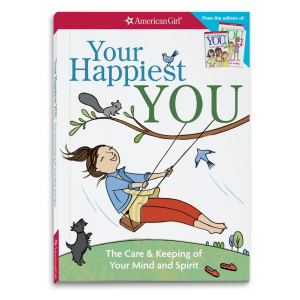 Your Happiest You: the care & keeping of your mind and spirit by Judy Woodburn
Format: book
Who it's for: Kids & Teens
Being happy is something we want for our kids but how can we help them get there?  This book is full of great insight and practical ideas about achieving happiness and is written in an inviting style that makes it very accessible to elementary and middle school age kids.
We teach our kids to take care of their bodies by eating right, exercising, and brushing their teeth so it makes sense to help them learn to take care of their mind and spirit at the same time.  With this book, kids can try out simple exercises to find internal calm, have better relationships with friends and family, enjoy the world around them, and think about how their attitude affects their feelings.
This book is published by American Girl Publishing so it is more geared toward girls but the concepts and advice apply to boys just as well.  Another wonderful book in this Care & Keeping of You series is Liking Herself which talks about developing good self-esteem.