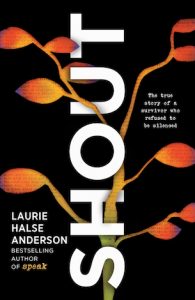 Shout by Laurie Halse Anderson
Release Date: March 12, 2019
Format: Book
Who it's for: Teens, Adults
"This is the story of a girl who lost her voice and wrote herself a new one" (p. 8). As a survivor of rape and sexual assault, Laurie Halse Anderson writes a memoir that is moving, honest, angry, and empowering. The poetic verse flows beautifully, and she is able to say so much with her few carefully chosen words, as she takes the reader through her life before and after IT happened. The author is a great example of strength and how to use your voice to make change. Mental health and sexual violence resources are provided for the reader. Recommended for teens and adults.