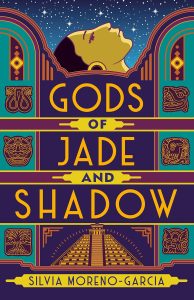 Gods of Jade and Shadow by Silvia Moreno-Garcia
Format: Book
Who it's for: Adults
Trapped in domestic drudgery in a small town in Yucatán, Mexico, Casiopeia Tun lives at the mercy of her wealthy and tyrannical grandfather, Cirilo. Despite her mother's urging to keep her head down and do whatever their relatives might command, willful Casiopeia still has moments of quiet rebellion. These moments oftentimes attract the ire of her arrogant cousin, Martín, but Casiopeia is practical and does her best to not let him get under her skin. The unfairness of her life is not lost on her, though. She knows she was born under a rotten star, but in secret Casiopeia continues to dream of another life. A life of her own choosing.
In a small moment of defiance, Casiopeia goes through her grandfather's things while the rest of the family is out. She expects to find hidden treasures in a wooden trunk, but instead she accidentally frees Mayan death God Hun-Kamé, Lord of Xibalba (the Mayan Underworld). Freeing him from his imprisonment binds Casiopeia and Hun-Kamé, their fates intertwined. Casiopeia agrees to help him take revenge on his twin brother and reclaim his throne. What other choice does she really have? This journey could give her a new life. It could also be her undoing. Either way, she will escape the life she'd been given.
Gods of Jade and Shadow promises Mayan Gods in 1920s Jazz Era Mexico, but also offers a magical fairytale inspired by Mexican folklore, a journey of self-discovery, slow burn romance, political and social commentary, and meditations on power, duality, freedom, and death.