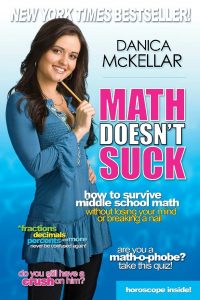 Math Doesn't Suck by Danica McKellar
Format: Book
Who it's for:  Teens, Middle School
It may be hard to believe, but math really doesn't suck.  In fact, it can be fun, or at least you can be successful at it if it's presented the right way.  Author Danica McKellar started out as a TV actress, who you may recognize as Winnie from the Wonder Years or Elsie from The West Wing, then went on to earn a Ph.D. in mathematics and has created a series of math books for middle and high school girls that presents math in a fun and relatable way.
Math Doesn't Suck features early middle school math concepts, along with Danica's personal stories, real life applications, and personality quizzes – because what middle schooler doesn't love those? The second book in the series is titled: Kiss My Math, followed by Hot X: Algebra Exposed.  The last in the series is Girls Get Curves, and yes of course, it's about geometry!
I was a girl who loved math in school so I hope these books will inspire today's young women to try on their smarty pants and wear them with pride!