Submitted by Ms. Catherine!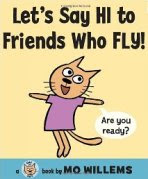 Let's Say Hi to Friends Who Fly!
is the latest book from the new series featuring Cat the Cat by Mo Willems. If you attend a story time at one of the St. Mary's County Library branches, I can almost guarantee, that at one time or another, you've heard a story written by Mo Willems. He is a favorite among the children's librarians in our county! So when his new series was announced, I knew we needed to feature it on our kid's book blog! This very simple book is great for kids just beginning to enjoy picture books. The illustrations are broadly drawn, the text is bold, and white space is used nicely, so as not to distract the reader. In the book, Cat the Cat decides to find out which of her friends can fly. As each Bee the Bee, Duck the Duck, and Bat the Bat, demonstrate how they fly, parents and children can buzz, flap, and flutter just like the characters in the book! And be ready for Rhino the Rhino's flying surprise at the end!
See this book listed in our catalog