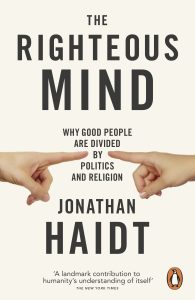 The Righteous Mind: Why Good People are Divided by Politics and Religion by Jonathan Haidt
Format: Book, audiobook
Who it's for: Adults
'Can we all get along?' The book begins with this often cliché question but then examines the psychological and cultural roots of why we often can't achieve this goal. What are we basing our ideas of right and wrong on in the first place and is there any middle ground between opposing sides?
Dr. Jonathan Haidt writes through the lens of moral psychology which pulls together a broad range of aspects of a society such as anthropology, history, religion, and politics. He examines what moral intuition is, how it reacts with reason, and how we all interact with each other based on it. Dr. Haidt offers constructive ideas about drawing ideas from liberals, conservatives, and libertarians alike to find that middle ground that could benefit the whole society.
Audiobook is often a good format for non-fiction books such as this and you can find this title in our Libby app as an eAudiobook. Print versions of the book are also available for check out through the link below. If you have questions about using electronic resources please call or visit us at the library.
Find the digital book in Libby