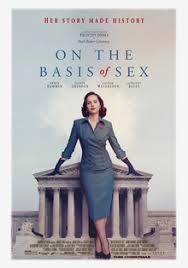 On the Basis of Sex Directed by Mimi Leder
Format: DVD
Who it's for: Adults
Ruth Bader Ginsburg is the second female to become an Associate Justice of the U.S. Supreme Court. There have only been four women in this position in our great country's history. This in itself is remarkable.
What is also remarkable, as On the Basis of Sex highlights, is the fact that Ruth Bader Ginsburg was one of the only women in her law school class at Harvard. Before starting law school, Ginsburg earned a bachelor's degree from Cornell University and became a wife and mother. Ginsburg's husband Martin, also attended Harvard Law School (in a class ahead of hers) and became ill during his final year. While Martin Ginsburg recovered from his illness, Ruth attended her husband's classes, as well as her own, and helped him study so that he could earn his law school degree. When he graduated and took a job in New York City, Ruth Ginsburg transferred to Columbia Law School and earned her law degree there.
Having trouble landing a job in early 1960's New York, in a male dominated profession, Ruth turned to academia. What is remarkable here is that Ruth did not give up. She became a professor at Rutgers Law School and Columbia Law School where she was a strong supporter of women's rights and gender equality.
On the Basis of Sex, tells this small portion of Ruth Bader Ginsburg's professional story. The movie highlights her strength of character as she fights to end not "sex" discrimination, but the more favorable term "gender" discrimination. The movie presents a strong woman role model, but also reveals how much Ruth's husband Martin loved her and supported her career.  As a supportive married couple, the Ginsburgs were an important part of our country's legal history.  This is an excellent movie! Find it on DVD.