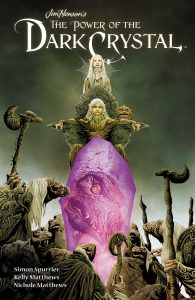 The Power of the Dark Crystal
Format: eBook, Book
Who it's for: Teens, Adults
If you're a fan of the classic Jim Henson film The Dark Crystal and/or the Netflix series The Dark Crystal: Age of Resistance you will be pleased to know the story of The Dark Crystal does not end (or begin*) there.
The Power of the Dark Crystal graphic novels are a sequel to the film. Jen and Kira have ruled the mystical world of Thra for a great many trine [off and on] but their hard-earned peace lies in jeopardy when the fireling Thurma, arrives from a subterranean world and threatens to crack the Crystal of Truth and release the evil Skeksis upon the land once more. Thurma has only one ally, the gelfling Kensho, who trusts that together they can save both their worlds from destruction. Much like the original film, this series is a story about love, overcoming obstacles, and the importance of environmental stewardship.
If you enjoy The Power of the Dark Crystal, Kensho and Thurma's saga continues in the graphic novel series Beneath the Dark Crystal.
And if you really can't get enough of The Dark Crystal you might try J.M. Lee's YA series of novels about Thra, starting with Shadows of the Dark Crystal, which features several characters from The Dark Crystal: Age of Resistance and seems to take place concurrent with the TV show.
*There is also The Dark Crystal: Creation Myths shedding light on how the world of Thra began. Witness the birth of Aughra, and her son Raunip, the arrival of the urSkeks, as well as the Great Division, among other "historical" events.