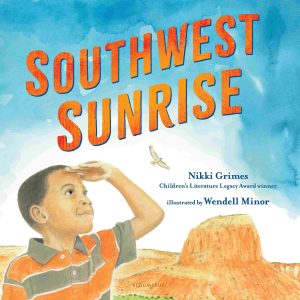 Southwest Sunrise by Nikki Grimes, illustrated by Wendell Minor
Format: Book
Who Its For: Kids
Jayden is a New York City boy through and through. He does NOT want to move to the New Mexico desert with his family, not even a little. Already missing the skyscrapers and the familiar sonic background of the city, he expects this desert to be a "place of shadows", all "browns and tans", which does not appeal to him at all! However, Jayden is a curious boy by nature and the brilliant gift of a field guide from his mom prompts this desert newbie to begin exploring. He finds beauty enough to be grateful for in the colorful flowers, trees, rocks and wildlife, and begins to think that, just maybe, he could call this place home after all.
Nikki Grimes' gorgeous poetic language is stunning, and the watercolor illustrations are beautiful (I LOVED the emotion in the picture of Jayden on the plane). Any child who has ever had to move or is facing an unwelcome move will certainly relate to this lovely book.