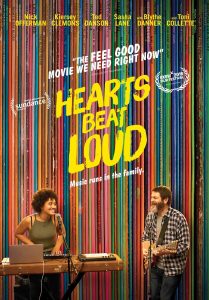 Hearts Beat Loud
Format: Digital Movie, DVD, Blu-ray
Who it's for: Adults, Teens
If you like feel-good movies, about fathers and daughters, with great soundtracks, well, I've got a film for you:
Hearts Beat Loud stars Nick Offerman as Frank, and Kiersey Clemons as his daughter Sam. Frank and Sam's mother were musicians. She died when Sam was little, and Frank never re-married. He's been running a record shop for 17 years, but things are going to have to change. Sam is heading across the country soon, to pursue her dream of studying to become a doctor, and the record shop won't support her out-of-state pre-med tuition.
Frank and Sam have regular jam sessions, and one night they play a song Sam has written, about her budding summer romance, which Frank records, and uploads to Spotify on a whim. To their surprise, the song becomes a hit, and the opportunity to pursue a career in music opens up to Sam and Frank. Frank has fantasies of their daddy-daughter-duo sweeping the indie rock scene, while Sam is firm about going to school, despite developing strong feelings for her new love. What will they do?
I thought Hearts Beat Loud was really sweet, and just what I needed to escape the complicated world we find ourselves in, just for a few hours. Offerman and Clemons have great chemistry, and the movie also features entertaining performances from Toni Collette as Frank's landlady, and Ted Danson as his bar-owning best friend. This intergenerational story may also be a good movie for parents to share with their older children (it's rated PG-13). Put the DVD or Blu-ray on hold, or stream it via Hoopla today!