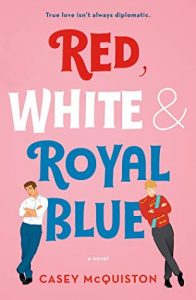 Red, White & Royal Blue by Casey McQuiston
Format: Book, eBook, Audiobook
Who it's for: Adults
Alex hates Henry. Henry is pompous, stuffy, and obviously has no sense of humor. But when a small argument causes an international incident, Alex and Henry are forced to play nice. For these young men are not your typical 20-somethings. Alex is the son of the first female president of the United States and Henry is the younger grandson of the Queen of England and 3rd in line for the throne. Therefore, despite their obvious disdain for one another, Alex and Henry must strike up a fake friendship for the good of national relations. But as they spend time together at public events where the ever-present press can snap photos of their fake friendship, it soon becomes clear that Henry and Alex do not hate one another. Instead, it's very possible they are falling in love. How are the FSOTUS (first son of the United States) and a British royal supposed to make this work? With humor, feeling and a bit of shenanigan, Casey McQuiston gives readers a truly beautiful love story and a delightful romance with an HEA (happily ever after).
Find it in the catalog.