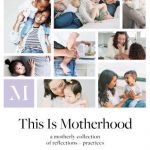 This is Motherhood: A Motherly Collection of Reflections and Practices by Jill Koziol and Liz Tenety
Publication Date: March 2019
Format: Book
Who's it for: Mamas everywhere
Published by the co-founders of "Motherly," an online community, This is Motherhood is a collection of essays and practices written by mothers from all walks of life. Each woman's voice helps to address the complexity of motherhood and gently reminds us that there is no one right way to be a mother. To further the reader's introspection of a particular topic, each chapter also concludes with a journaling or meditative exercise. As a reader makes their way through the book, one central message remains loud and clear: motherhood can be hard and ultimately, mamas have to do what is best for them and their children–unsolicited parenting advice, be gone!
My first thoughts after reading this book were: "Oh my goodness, why couldn't this book have been published before my oldest child was born?!" As any new mother might experience, our inner voices can sometimes be overwhelming and our thoughts can be nonsensical:
"Am I feeding my baby enough?"
"Is my baby happy?"
"My baby hates me! I can't make him stop crying!"
"Wow…I really need a shower…but taking a moment for myself is so selfish!"
"If I go out with my friends, will my baby think that I left her?"
Concerned with the many worries and doubts that motherhood brings, mothers can often feel alone in their struggle to understand it all. This book hides nothing in addressing both those great highs of motherhood (My baby smiled at me!!) and those low-lows (When was the last time I got a restful night's sleep?). I found so much comfort in these women's words and stories. Reading about other mother's perspectives has shown me that women everywhere are experiencing and thinking similar things while navigating through motherhood, which is so wonderfully reassuring. Mamas, we are not alone and we've got this!
Bonus: This book is now my go-to baby shower gift! Babies are adorable and new and exciting…but let's not forget about supporting those mamas too!