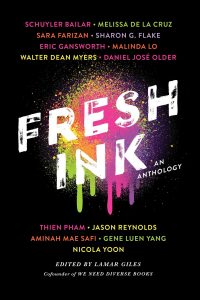 Fresh Ink Edited by Lamar Giles
Publication Date: August 14, 2018
Format: Book
Who it's for: Teens
Love, relationships, and the unknown abound in these sci-fi, fantasy, urban, and real-world short stories from well-known YA authors. In their own unique way, each author leaves the reader wondering where the story could go from here. With diverse characters, written by diverse authors, there is something here for everyone.
In "A Stranger at the Bochinchi," Daniel Jose' Older does what he does best, keeping you on the edge of your seat in this magical dystopia.
Walter Dean Meyers gets right to the point in an eerie way, showing us what a life wasted to violence looks like in "Tags."
As I said, there is something here for everyone, even a graphic novel. You'll fall instantly in love with the adorable friends in "Paladin/Samurai," by Gene Luen Yang as the story opens during their role playing game.
In "Meet Cute," by Malinda Lo you're heart will melt over the budding new relationship that takes place at the Denver Science Fiction and Fantasy Convention.
I am a fan of short story collections from varying authors because it allows me to read outside of my comfort zone without committing to a full fledged book. In Fresh Ink, I found that I enjoyed stories from authors that I typically avoid, and I found comfort in reading some of my favorite and familiar authors. I hope that you will do the same with this attention grabbing collection of short stories.