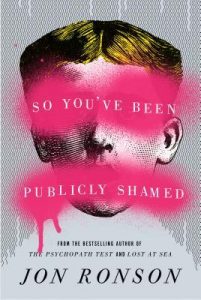 So You've Been Publicly Shamed
Format: Book, eBook, Audiobook
Who it's for: Adults
We've all fallen victim to it. That satisfying feeling when someone is wrong on the internet. You instigate or participate in a "pile on," posting your criticism on your choice of platform. And you totally forget: There's a person on the other end. A human being, like you, who makes mistakes, like you.
Jon Ronson investigates this phenomenon in his book So You've Been Publicly Shamed. He speaks to people whose reputations have been ruined by public shaming. People who innocently tweeted a joke, or had a secret uncovered, or posted a photo meant for just their friends to see, that spiraled completely out of control, turning their lives upside down. Even if they sincerely apologize, even if they genuinely change their minds/ways, they become known for that one mistake, and not for the multi-faceted individual they are.
Of course public shaming is not a new concept, but it's gotten significantly easier, and potentially more dangerous, in our current era of social media and the 24-hour news cycle. Anyone can be held accountable for satire they published years ago. Anyone can have a quote taken out of context that disrupts their career and endangers their livelihood. Anyone can devote their life to doing good works and be "cancelled" in the blink of an eye. The court of public opinion never seems to close, or overturn their rulings.
We generally extol virtues like "love your neighbor" and even "love your enemy" but when we engage in public shaming we ignore and even betray these ideals. Why are so quick to hold a grudge, and so slow to hold a conversation with people we presume to disagree with? If you take the opportunity to get to know that person, you are likely to find common ground. If you allow that person to learn from their transgressions and move on, instead of constantly reminding them of what they did wrong, they may grow and find redemption.
In this book, Ronson charges us to examine our impulse to "call out" people, and to think about the harm it causes by inhibiting civility and advancing cruelty. Find it in our catalog