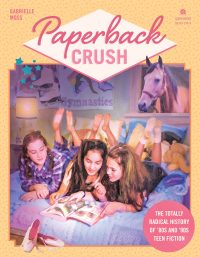 Paperback Crush by Gabrielle Moss
Format: Book
Who it's for: Adults
This book is for every millennial who fondly remembers the Scholastic Book Fair as the most exciting day of the school year or whose frequent library visits always resulted in checking out stacks of neon-bound paperbacks to be voraciously read on the bus, under the covers, or anywhere else one could squeeze in a chapter or two (or three!). This lovingly compiled catalog of quintessential '80s and '90s tween and teen fiction covers the more well-known titles, like The Baby-Sitters Club and Sweet Valley High, as well as plenty of more obscure, perhaps forgotten titles. Each chapter of the book is devoted to a different theme popular with books from the period, ranging from the mundane: love, friends, family, school, and jobs, but ending with more extreme chapters about danger and terror! No matter the chapter though, any nostalgic reader will find themselves wistfully reminiscing about those cheesy, yet life-shaping paperbacks of their youth.