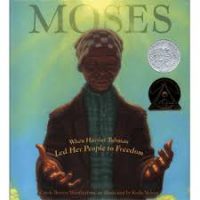 Moses: When Harriet Tubman Led Her People to Freedom by Carole Boston Weatherford and Illustrated by Kadir Nelson
Format: Book
Who it's for:  Kids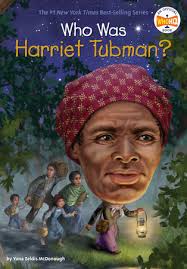 Who Was Harriet Tubman? By Yona Zeldis McDonough and Illustrated by Nancy Harrison
Series Title: Who Was–?
Format: Book
Who it's for: Kids
Anyone from Maryland should know who Harriet Tubman is, but do you really?  I'm from Cambridge, so of course I know who she is, right?  I do, of course, but I wanted to learn more especially with the new movie coming out – https://www.focusfeatures.com/harriet/.  And, I want my kids to know who she is, so I read two different books about her that are geared towards kids.
First I read, Moses: When Harriet Tubman Led Her People to Freedom by Carole Boston Weatherford and Illustrated by Kadir Nelson.   This book won a Caldecott Honor in 2007 and the Coretta Scott King Award for Illustrator in 2007.  It is truly a beautiful book.  The story follows Harriet shortly after she is told she is about to be sold by her owner, through her years transporting people on the Underground Railroad.  It is about how she was given the name Moses and her faith in God which led her to do the right thing.   This is a work of fiction and some of the story differs from other accounts of Harriet's life, but I still think it is a great way to introduce a child to Harriet Tubman.   Find it in the catalog
Next I read, Who Was Harriet Tubman? By Yona Zeldis McDonough and Illustrated by Nancy Harrison.  This is part of the Who Was–? Series which are biographies for kids.  Written like a story, this biography was easy to read and is full of factual information about the time during which Harriet lived.  I actually prefer to read kids biographies because you learn about the person but without being overwhelmed with facts (oh and there are usually pictures!).  This biography describes Harriet's work on the Underground Railroad, as a nurse during the Civil War and as a Spy for the Union army.  Find it in the catalog
Now I'm ready to see the movie!