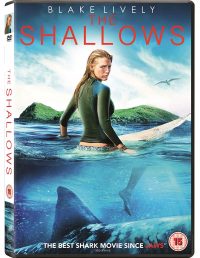 The Shallows
Format: DVD
Who its for: Adults and Teens
Summer's almost here! So while you're planning your big, beach vacay, let's talk about sharks!
In the movie The Shallows, despite the danger of surfing alone, Nancy decides to hit the waves. When a great white shark suddenly attacks, Nancy is forced to swim to a giant rock for safety. Left injured and stranded 200 yards from shore, Nancy must fight for her life as the deadly predator circles her in its feeding ground.
The Shallows sets the bar for what a shark attack thriller can be. Marketed as horror film, the movie is largely grounded in survival drama but also fantastical in its action and suspense. One of the things I appreciated most about this movie is that it gave the shark a purpose, a reason for its aggression that is almost believable.  I preferred this to the more common idea that sharks are mindless, bloodthirsty monsters (that roar?  I'm looking at you, Jaws).  Not to mention, the cinematography used in this movie is just…pretty. While you're sweating on the edge of your seat, holding tight to your limbs, be sure to enjoy the vibrant colors and slow motion effects that make the film both terrifying and aesthetically pleasing.  Other than the CGI shark, Blake Lively's performance is easily the best in the movie (of course she is pretty much the only person in the movie so that isn't saying much).  If you're feeling brave, dip your toes in and check out The Shallows. Find it in the catalog.