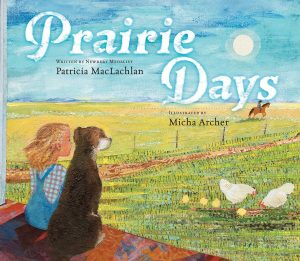 Title: Prairie Days by Patricia MacLachlan
Who's It For: Children
Format: Book
From Newbery-award winning author of the Sarah, Plain and Tall series, Patricia MacLachlan brings another gem.  Ms. MacLachlan reminisces of life on the mid-west farm of yesteryear.  She paints a kaleidoscope of sensory images for the mind, from orange sunrises, to her mother's wild roses, cold drinks from lift-top tanks at the store, to riding a grain-filled wagons to the railroad. Moreover, Micha Archer has created gorgeous illustrations with use of many-patterned collages.  Her pictures are like beautiful quilts, stitching together Patricia MacLachlan's tale of playing kick-the-can, herding fluffy sheep, and dozing work dogs on front porches. 
Having lived only in coastal states, I soaked up this account of a quieter, simpler time on the prairie.  If you enjoyed Laura Ingalls Wilder's Little House on the Prairie series, you will probably delight in this picture book snapshot of rural life.