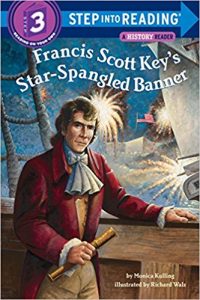 Francis Scott Key's Star-Spangled Banner by Monica Kulling/Richard Walz
Format: Book
Who it's for: Kids
Looking for a good book to help your young reader understand why we sing the Star-Spangled Banner? The story behind our national anthem is a suspenseful one worth knowing and sharing, especially as our most patriotic holiday approaches. In this Early Reader, author Monica Kulling delivers just enough detail about the relationships among England, France and the United States in the early 1800's, inviting readers on an exciting historical adventure. I'll even admit that it served as a simplified refresher for me! I knew that Francis Scott Key was inspired to write the Star-Spangled Banner when he witnessed a battle aboard a ship, but was a little fuzzy on the events that landed him on the ship in the first place. It's crystal clear now, thanks to Kulling's storytelling. I also appreciated the way Mr. Key's strengths and weaknesses were conveyed, creating a relatable character for young readers. It's a pleasing read that won't disappoint!
Find it in the catalog.