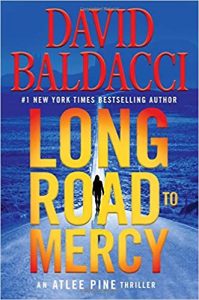 Long Road to Mercy by David Baldacci
Who it's for: Adults
Format: eBooks, digital audiobook
FBI agent Atlee Pine didn't mind being in a small office in a small town in Arizona.  She often lifted weights or hiked alone.  She did mind not knowing: not knowing about her twin, Mercy.  After hypnosis, Atlee remembered a man who said, "eeny, meeny, miny, moe," pointing from Atlee to Mercy.  He had chosen Mercy.  Twenty-nine years later, Atlee only had tattoos to remind her of her twin and of her mission to find out what happened to her sister.   Had convicted serial killer Daniel James Tor kidnapped and murdered Mercy?
Meanwhile, the corpse of a donkey was found in the Grand Canyon.  The animal's belly was cut and bore the carved initials "JK".  In addition, a Grand Canyon visitor named Benjamin Priest was missing.  He was last seen on a mule train heading down into the Grand Canyon.  Was there a connection between the killed donkey and the missing man?  And why was an FBI higher-up telling Atlee to watch her back?
If you like a fast-paced thriller, I recommend this story.  It's the first book in a trilogy by David Baldacci, available on ebook and audiobook on Overdrive/Libby.