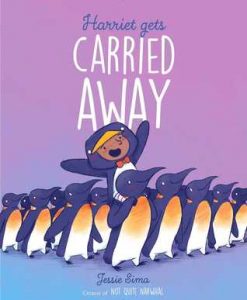 Harriet Gets Carried Away by Jessie Sima
Format: Book
Who it's For: Kids
Harriet loves dressing up and wears different costumes every single day. When it's time for her dress-up birthday party, Harriet is so excited to go to the store and get all the supplies they'll need to throw an amazing party. But when Harriet gets to the store, dressed in her super special penguin costume, she finds dozens of penguins who take her in as one of their own and fly her to the South Pole. Harriet must enlist the help of an orca whale and a flock of pigeons in order to get back home in time for her birthday party.
Harriet Gets Carried Away is another wonderful, whimsical work by Jessie Sima, author of Not Quite Narwhal. The book encourages imagination, creativity, and determination in the face of a challenge. The story is amusing, and the artwork is adorable.
Harriet Gets Carried Away is a new addition to our Side by Side collection! Pick up a copy for fun activities and discussion questions connected to the book.