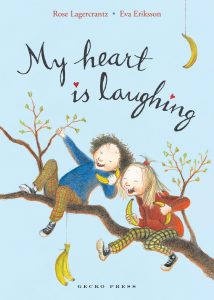 My Heart is Laughing by Rose Lagercrants, Translated by Julia Marshall and illustrated by Eva Eriksson is another treasure from New Zealand.
Format: Book
Who's it for: Kids
Dani and Ella are together again joined by their classmates – some are nice like Cushion and others not so nice like Mickey and Vickey. The two best friends, Dani and Ella along with pet hamsters, Snow and Flake are off on new adventures. Ella has recently moved to a new town and Dani is struggling with the loss of her closest friend. When Cushion chooses Dani over Mickey and Vickey they bully Dani by pinching her repeatedly until she is so upset she acts totally our of character. When Dani's Dad goes to school to address the harm she has suffered Ella appears and helps Dani remember all the great things to be happy about.
Find My Heart is Laughing here.