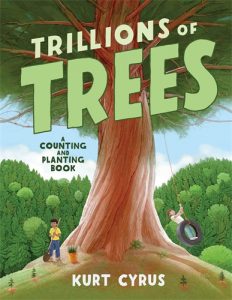 Trillions of Trees by Kurt Cyrus
Format: Book
Who's it For: Children
Young Lily wants to purchase a "trillium" plant.  However, when she phones her local nursery, the salesman hears a "trillion" trees instead!  The result is a comedic yet charming reforestation project for Lily and her brother.  Author Kurt Cyrus weaves the names of many trees in this rhyming tale and concludes with several tree facts.  If you would like a gentle ecology-minded read with many subtle community project ideas, this new book would be a great choice.  I highly recommend enjoying this one with a young reader to instill a love of taking care of our world.
Find Trillions of Trees in the catalog!
Kurt Cyrus has authored many children's books.  Check them out in our catalog!